Chris Birch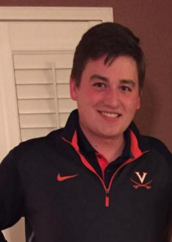 Chris Birch
Co-Director
17 Uranium Head Coach

Chris Birch joined Synergy in 2016. Chris also serves as an assistant coach for Great Lakes Lightning, a professional men's team. He also works as a consultant for Data Project USA, a worldwide leader in volleyball statistics.

Prior to joining Synergy, Chris served as the Director of Volleyball Operations at the University of Virginia from 2012-2016. While at UVA, Chris was in charge of scouting opponents, breaking down game film, coordinating team travel, implementing a yearly marketing plan and directing summer camps. UVA was ranked 172nd in the nation when Chris arrived but finished the 2015 season ranked 59th, narrowly missing a birth into the NCAA tournament.
Chris was the owner/director of X-Factor Volleyball Club in Reading, PA from 2010-2012. The club saw growth each season and continues to operate today. Chris was also the assistant varsity coach and head JV coach at Exeter Township High School during this time, playing a key role in the early development of the team that advanced to the PIAA Class AAA State Semifinals in 2014.
Chris has also spent some time with USA Volleyball as a technical coordinator. He worked with the Men's National Team in 2008 and 2009 For the Pan American Cup. The team won the Gold Medal both years. He was on staff with the Boys' Youth National Team that finished 10th in the 2009 FIVB World Championships.

From 2006-2010, Chris served as a student assistant coach with the Penn State men's volleyball team. The team made the NCAA Final Four each year during that time, including winning the 2008 National Championship and finishing as the 2010 National Runner-Up.

Chris attended Exeter Township High School in Reading, PA where he was a setter. He was a member of the team that advanced to the PIAA State Semifinals in 2003. He played club volleyball for Red Rose, one of the premier clubs in the state at the time.

You can contact Chris at 434-282-3754 or chris@synergyvolleyball.com